Kitchen Renovation, Sales, and Installation in Rochester, NY
Trust Our Kitchen Design Process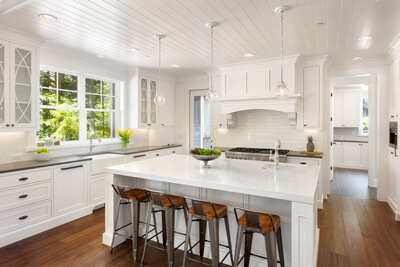 At Kitchen Thyme we provide complete kitchen design, sales, and installation for all aspects of your project including remodeling and construction. Your project begins by establishing mutually agreeable plans, timelines, and budgets. We are the most trusted name for kitchen design in Rochester. Our goal in achieving great design requires a team effort between the designer and client. Coming up with design models for your kitchen requires getting to know something about your lifestyle. Style, materials, and function are the elements that must be brought together for successful kitchen remodeling in Rochester, NY. Part of the initial consultation will consist of finding out how that space ties into the other rooms that join it, how you use your kitchen, how you shop, cook, what type of cookware you use, and what storage needs you may require. During the design process, the customer will be encouraged to ask questions and be involved in the process. The goal is to make your kitchen unique to you.
"I want to get to know my clients. I want their kitchen to reflect who they are"
– Quote by Denise Peters, Owner, and Designer
Kitchen Thyme will put together a team of professionals and look at all of the needs during this planning process as to eliminate any change orders, and unforeseen expenses. Because we value quality craftsmanship, materials, and have extensive experience in installation projects, we command very specific construction practices.
Your Kitchen Thyme Designer will be there when the kitchen cabinets arrive and will inspect them to assure that they are delivered per specifications. We are present the day the installation starts. Our designer will work along with the installer and contractor throughout the duration of the project as needed. We are always available to our clients and this process is followed from beginning to end. This is one of the unique advantages of doing business with Kitchen Thyme!
Serving Rochester, Fairport, Penfield, Victor, Webster, Canandaigua NY.