Kitchen Remodeling Rochester NY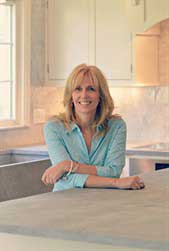 At Kitchen Thyme Design Studio Inc., it is considered it a privilege to work in your home ~ Years of experience enable you to get the best design and products for your budget in Rochester NY. Our kitchen remodeling team – kitchen designers, craftsmen, technicians, and artisans, work closely to marry function with form and transform your space that you can call your own. With a practical approach to design and the skills of a contractor, we offer professional design and kitchen remodeling in Rochester NY you can count on. Contact us today to schedule an appointment.
With over 16 years' experience designing, selling and overseeing the installation of kitchen cabinets and bath projects, Denise Peters established her own business in 2007, working with local contractors to create kitchen and bath that are both "functional and beautiful." Denise is a hands-on designer who enjoys assisting in the process of selecting finishing material that captures the persona and compliments the lifestyles of her clients.
Kitchen Thyme Design Studio is located in Pittsford, NY in the heart of the beautiful Bushnell's Basin. Denise works by appointment in a boutique environment. She is available to meet at the studio or in your home for a consultation. Your time in the studio is spent on your project.
Expert Kitchen Remodeler in Rochester NY
Denise is a professional Kitchen and Bathroom Remodeling Contractor, she has many satisfied customers in Monroe, Wayne, and Ontario counties, as well as the Thousand Islands and the Virgin Islands. She completes all Kitchen and Bathroom Renovations in Rochester on her own. Growing up the daughter of a home builder and cabinet maker, Denise learned very early that she had a passion for homes. She has remodeled and restored several of her own homes. Knowing the remodeling process from both the contractors' and customers' perspective helps Denise walk clients through the kitchen design process so they know what to expect and limit inconveniences.
Denise enjoys adding value to her clients' homes. She is CAPS certified (Certified Aging in Place Specialist) and is trained to design space that will allow the aging process to take place without taking you out of your home.
Some clients have contractors that they trust and wish to have them do their kitchen. This is not a problem at Kitchen Thyme Design Studio. Denise will work with you and your contractor to provide a great product.
Do you have plans for a kitchen remodeling in Rochester NY? Consult our firm to see if we're a good fit for you. Give us a call today and we'd be happy to discuss your project.
Providing Kitchen Remodeling Services To:
Rochester, Pittsford, Penfield, Webster, Fairport and Canandaigua, NY.