Design Kitchen with the Help of Professional Kitchen Designer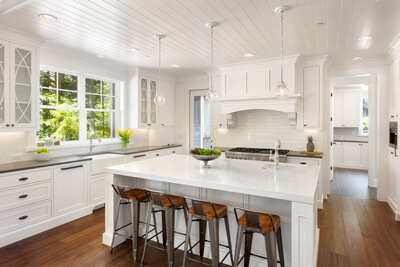 A kitchen is a central headquarters for the family. The kitchen is often the showplace of the home, and yet it is required to function well for a wide variety of tasks. A well-equipped, beautifully dressed kitchen will provide both a sense of well-being and a favorite place in the home. Kitchen Thyme Design Studio is a kitchen remodeling company in Webster, NY to serve all your desining and renovation requirements.
Are You Designing Your Kitchen?
As you plan your new kitchen, you must consider both the utility and the look factor. Get in touch with a professional kitchen designer and remodeler– Kitchen Thyme Design Studio Inc. We have kitchen design ideas to choose from, you can choose the one that suits you best!
Whether you want to renovate existing or to design your new kitchen, contact Kitchen Thyme Design Studio Inc. and get the professional kitchen remodeling in Webster, you are looking for! Let us design your cooking space at its best.
Also Serving Fairport, Penfield, Rochester, Webster and Canandaigua NY.
Kitchen cabinet doors can add to the beauty of your kitchen. Completely change the look of your kitchen simply by replacing existing with quality cabinets of ours. Get the most storage use possible out of your available storage space.
A great kitchen remodels plan will take a professional to develop. All it takes is one step to get started on your new kitchen – Hire a professional kitchen remodeler.